Few consumers know the Q40 even exists. That's not to say you won't see this vehicle on the road, but the vast majority will wear a different badge.
For the 2015 model year, Infiniti decided to let the "G sedan" live on for one final hurrah under the Q40 name. Its style-forward, technology-packed sibling, the Q50, will replace it as the entry-level Infiniti sedan moving forward. The Q50 uses Infiniti's latest design language, has updated safety equipment, and is loaded with technology. But what the Q50 adds in convenience, it loses in terms of driving performance. The Q40 remains an enthusiast choice within the Japanese brand, but is that enough to validate the aging sedan?
If you strip away the Q40 moniker, you'll find last year's base G37. And by "base", I mean there are a grand total of three options for the 2015 model: all-wheel-drive, a power moonroof, and navigation. That's it. You can't even option a manual transmission anymore, but few will bemoan its absence these days (I'm one of them). What you're left with is an entry-level luxury sedan that loves to pick up speed and doesn't carry a big sticker price.
Because of the Q40's unique segment – somewhere between a BMW 3 series and a 5 series – finding competitors by any other criteria besides price is a bit unfair. For just under $34 grand, the 2015 Q40 is about $4,300 less expensive than a base BMW 328i, $4,000 less than a Mercedes C250, and $1,500 less than an Audi A4. Among those, only BMW offers a more entry-level variant, the 320i, for about $1,000 less than the Q40. With those benchmarks, we can assess what you get (and have to do without) for your dollar.
The Q40 uses a 3.7-liter V6 making 328hp and 269 lb-ft of torque. By comparison, the BMW 328i makes 240hp and 255 lb-ft of torque, the Audi A4 makes 220hp and 258 lb-ft of torque, and the Mercedes C250 makes just 201hp and 229 lb-ft of torque. That gives the power advantage to the Q40 by a significant margin, however, all that grunt comes at a cost – fuel economy. The Q40's EPA combined miles per gallon rating is 22, while the BMW averages 28, the Audi manages 26, and the Mercedes get 24. These figures aren't surprising considering the German vehicles make use of smaller displacement, and in some cases, turbocharged, 4 cylinder engines. The Q40's thirstier V6, while a gem, could deter potential buyers who'd at least like a more efficient option.
Related: 2016 Honda Civic Sedan First Drive Review
Moving to the transmission, the Q40 is only available with a 7-speed automatic, and to be blunt: it's woefully outdated. In fact, the clunky, lethargic transmission is the weak link to the Q40's overall package. While competitors have either refined their 7-speed transmissions, or moved on to 8-speed or CVT setups, Infiniti has refused to give the Q40 an upgrade. Granted, the Q40 is a one-time deal, and engineering a new or updated gearbox for its last (and technically, only) year living doesn't make business sense. What is frustrating is that you can sense the transmission holds the vehicle back from realizing its full performance potential, not to mention eeking out a couple extra miles per gallon. It would be interesting to see if Infiniti offers a software remap to smooth out the shifts, considering the Q50 uses a similar transmission, but manages to provide seamless gear changes.
In terms of handling and steering response, the Q40 delivers agility and connectedness that is becoming increasingly difficult to find in contemporary "sporty" sedans. It starts with the steering wheel, which is compact, the perfect thickness, and ergonomically suited to its sporty character. Turn-in is immediate, and the communication from the front wheels is spot on, especially when compared to the electric steering systems found in the Q40's closest rivals. Then there's the suspension. Even on all-season tires, the Q40 sticks to the road under hard cornering with impressive poise. Besides some tire squeal, the 3,600-lb sedan almost never feels unsettled, mitigating body roll, and behaving precisely as the driver intends. Even with the traction control system disengaged, it's a chore to break the rear end loose. And when you need to scrub speed in a hurry, the brakes are more than up to the challenge.
"Luxury" is a difficult term to pin to the Q40 without caveats. While the leather seats are plush and comfortable, the grainy infotainment screen, lack of safety features, and outdated technology make the Q40 feel less like a luxury car on the inside and more of a liberally-optioned mid-range sedan. That said, Infiniti has chosen carefully where to spend its money on the cabin. Just about everything passengers would touch regularly – the dash, the door panels, the gear selector, the center console, etc. – is covered in soft-touch materials – leather, or brushed aluminum. Though the front seats lack the side reinforcement they likely should for such an agile vehicle, it's an easy task to drive for hours on end in comfort, thanks in part to the fact that the cabin is blissfully quiet.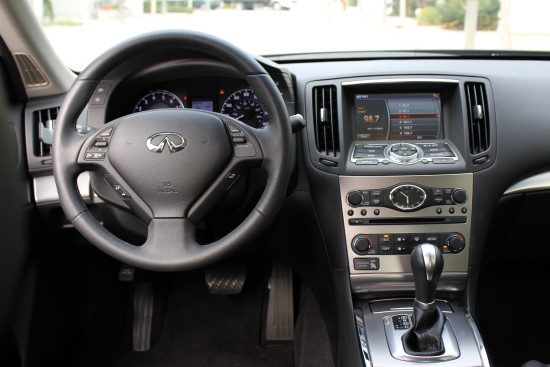 Oddly enough, only the driver and front passenger benefit from the Q40's larger size when compared to its compact luxury sedan rivals. Rear legroom is about the same, and rear shoulder room is only slightly more. Trunk space is similar to the competition as well, but the Q40 has a handicap: its rear seats don't fold. For buyers who regularly have larger trunk loads or who need more than a pass-through cubby, that could be a deal breaker.
Since the Q40 is truly just a re-badged G sedan, its exterior styling remains unchanged, though in some ways, I find the Q40 more handsome than its replacement. Yes, the front fascia is a bit too rounded for 2015, but the profile and rear end have aged quite well for a design that's nine years old. While most automakers are forced to update the looks of their cars every couple years, Infiniti nailed the design back in 2006, and has needed little refinement since.
Both inside and out the Q40 is a bit of a mish-mash of luxury and economy. The sleek, but aging styling, quiet cabin, and plush leather seats all communicate a luxurious experience. However, the infotainment system that cannot pair with your smartphone, lack of even basic modern safety systems (blind spot monitoring, anyone?), and almost nonexistent options list make the Q40 feel a bit outclassed when comparing it to Germany's entry-level sedans.
The beauty of the Q40 is that none of that matters. Its price tag, performance, and style seem to overshadow each of its weaknesses. Oh, and if any of your snooty neighbors ever judge you for choosing such a bargain, politely suggest a drag race. I promise their smirks will fade faster than their cars in your rearview mirror.